Post by jayhenry on Apr 23, 2007 13:52:21 GMT -5
Okay, we're three weeks into Prom Queen. Time to step back and look at how the show is doing, by the numbers.
This is a combination of YouTube, Veoh and MySpace numbers. Verizon VCast supposedly has about 20 million subscribers and if even 1/10th of one percent are watching, that's an extra 20,000 per vid.
The numbers for "compilation" is how many people are watching each video on the compilation, in other words, somebody who watches Week 1 compilation is, according to this chart, assumed to have watched every episode of Week 1 once. I don't have Week 3 numbers yet. Since the Week 3 compilation has only been available for hours, it's still in the thousands.
Also worth noting: because of the stratospheric views on a couple episodes, I graphed this with a logarithmic scale. The numbers on those lowest videos are only a little over 50-60,000.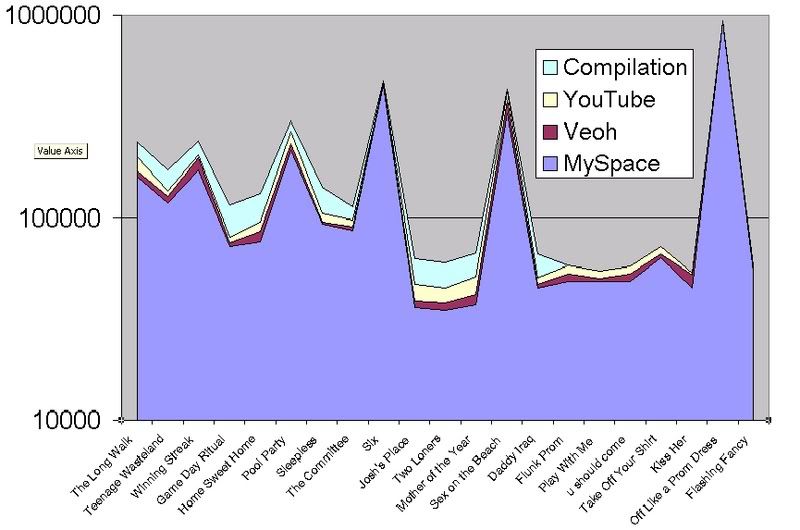 The average episode is pulling in about 185,000 viewers. If you don't think "compilation" numbers are valid, the average is still 171,000. Of course, a lot of that average is the three episodes that we're hugely successful -- Six, Sex on the Beach, and Off Like a Prom Dress. Without those three videos, the average is about 100,000.
The other important number to consider is "minimum views." This is a better measure of the fan base. The nearly one million people that watched "Off Like a Prom Dress" are obviously not all fans. Probably most of them just saw it on the main page, clicked, thought "WTF" and moved on. The least popular video (Play With Me) has just a little over 50,000 video.
So, is Prom Queen a success?
Yes, but with some qualifications. Average views of 200,000 wouldn't be too hot for a cable TV show. But, the difference is in the production budgets. Prom Queen was supposedly produced for $100,000.
Let's say "Hair Spray" was advertising on TV, with an ad rate of $10 per 1,000 viewers. With 3,600,000 viewers you're already looking at $36,000 worth of commercials. By the end of the run, if the numbers hold steady, the Hair Spray ads alone should more than cover the cost of the series. And of course there's also the ads for the POM (and other stuff too?) but I have no idea how much product placement costs.
The bottom line, Prom Queen was probably worth it to produce. A couple more good product placements and the show could even double it's money.
But, is it a sustainable long-term business model? Not yet. At only $100,000 it's not as if all those actors, actresses, directors and camera men are exactly making a living wage. They're doing it because it's a resume builder, practice, fun, cutting-edge. The revenue PQ is bringing in would probably be thrilling for amateurs, but for professionals, it's probably discouraging.
Michael Eisner, after all, isn't the sort of guy who cares about $100,000. That's a rounding error on his
1099-INT
. Prom Queen's numbers aren't as good as classic LG, but they've got better revenue streams in place. It's a step forward for internet video. Quite a bit better than the naysayers predicted, but for now, this isn't scaring the pants of anybody at
the new CW
.